It's almost 2020. I don't know about you, but that always felt like a landmark 'future' year that we'd be in the midst of some mass technological revolution. I'm talking flying cars, self-lacing shoes, basically all of Robert Zemeckis' Back to the Future vision come to life.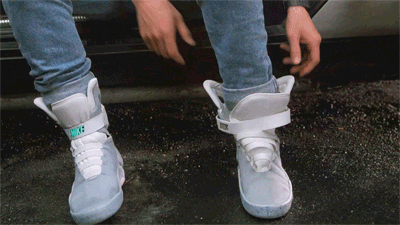 Ok, so we're not quite there. My fingers are still crossed for flying cars by 2030, though.
That's not to say technology doesn't play a big part in our lives today. If you'd have told me we will carry around personal computers in our pockets that are not only our phones, contain all of the information in the world at our fingertips, but are also our personal media players? 24/7? That's pretty cool!
The mobile device is by and large an extension of us, and a recent report stated that the average person spends 4 hours per day on it. 4 hours per day!
Yet when we consider workplace wellness programs today, particularly in mental health, they are predominantly delivered through in person, instructor-led workshops. While I'd never discourage ANY form of workplace mental health education because there's such a critical need, and there are certainly benefits of in person training, this is a sub-optimal way of delivering this content to your people if you're looking to make impact and scale it across your company.
Let's dive into why delivering your program on mobile makes good business, and practical, sense.
Content can be accessed on personal time
A mobile program can be accessed outside of business hours, or while on break, in micro-learning forms that are more conducive to how people consume media on mobile today. Instructor-led sessions don't have the same luxury, and often come at the expense of productivity of your workforce. This trade off means a mobile delivery could save your organization substantial loss in productivity during training.
Anonymous access
Attending live workshops alongside your colleagues and even your boss, you're unlikely to speak up if you're going through something. We all know the stigma of mental health. No matter how dynamic the instructor is, these workshops that are group-based aren't conducive to personalized care. Delivering this sensitive content on mobile gives anonymity so people can engage without fear of stigma.
Opt-in engagement
Are you more likely to retain information you were forced to sit through, or that you actively participated in? We already know that a mobile program can be accessed on personal time, which means they're doing that instead of literally anything else. It's on THEIR time, which these days is so valuable. Opt-in engagement is a huge benefit of a mobile mental wellness program, and your employees will be grateful for it vs another company mandate.
Personalized learning
A huge benefit of mobile learning today is that training can be personalized. This involves machine learning that gives users a personal learning path depending on how they've engaged with the content. Personalized learning is seen as the future of education, and is best practice to resonate with your people and keep them engaged.
Same compliance, but cheaper
The fact is, many organizations adopt mental health programs to be legally compliant with modern workplace standards. A mobile mental health program saves you on productivity loss of the in-person training and can still check the compliance box, albeit for much less.
Measurement
This is perhaps the greatest argument for a mobile mental health program or doing anything digital today. Data, data, data! Subjective employee surveys asking if they liked or didn't like the workshop is only so valuable. With a mobile program you can look at population-level behaviour, understand how your group has been impacted by the training through their actions, and help drive improvement with strategic business insights that connect with your company KPIs. You'll have end to end visibility of how your program is working effectively.
The greatest misconception today is that a mobile mental wellness program is inferior to in-person training, but cheaper to scale. The fact is mobile is the preferred form for EVERYTHING your people do.
Why should your mental health program be an exception?