In my previous two posts I wrote about how I'm learning to navigate through the noise of the news. I wrote those pieces, because I found myself getting frustrated that news outlets often focused only on what is wrong in the world. In writing those posts I wanted to bring up the topic in this one: there is a lot of good in the world, a ton of it. And I've learned I just have to change my point of view to find it.
"If You Change the Way You Look at Things the Things You Look at Change."
That's a popular quote by Wayne Dyer. It was something I was reminded of when I was writing my previous posts. At one point I realized that if I want to see the good in the world I would have to change my point of view and look for it. I came to accept that tuning into the news was likely not going to make me feel good or even give me any sense of optimism about today or tomorrow.
So, I decided to take matters into my own hands. I started looking for the good out there. To learn about the good, and cool, things that are happening in the world as a way to feel more hopeful about our humanity and our future. Here are some of the things I learned.
We Are Living in the Most Peaceful Time On Our Planet.
According to Steven Pinker, a cognitive scientist, we are perhaps living in the most peaceful time on our planet. It can be hard to believe, but Pinker has the research and statistics to back it up.
Today, there is less violence and more empathy between humans than ever before (if you continue reading you'll find some examples of that below). This wave of compassion began after the middle ages, around 400 years ago, and really grew in the Age of Enlightenment of the 18th century. Steven Pinker refers to this period as the Humanitarian Revolution. According to Pinker, during this time humanity became more caring and no longer ignored the suffering of others. Among other things this was the beginning of the end for capital punishment and slavery. Human rights as we know it also began in this period.
Even though injustices still exist today, the message I'm getting from Pinker is that we are far better off today than we used to be. Aside from a reduction in cruelty and violence in our societies, we also live in a healthier, more prosperous world. More people are dying of old age than of diseases and more people are leaving extreme poverty.
Fewer People on Our Planet Live in Extreme Poverty.
I heard an inspiring talk by Bill Gates recently on some of these changes and he shared that 1.2 Billion people have left extreme poverty since 1990. That's about 500 people every hour for close to 30 years! That's incredible. To me it's also a hopeful sign that our world is moving in the right direction.
For those of us living in developed countries considering the obstacles people were facing in the past and currently in other parts of the world, we can't deny that overall it's a good time to be alive.
I'm mindful that it may not feel this way for many and that we all face different challenges in our lives regardless of which part of the world we live in. For me, I know I need reminding of this perspective in my day. It's the kind of perspective that brings more appreciation to my life, especially when I notice I'm taking things for granted.
So, What Good IS Out There?
Well, I haven't done an exhaustive search for the good in humanity by any means, but some of the things I came across, mostly on YouTube (my current go-to resource to the world) include the following stories. Stories that inspired me to look at human beings in a different way or to discover something positive about what people are doing in the world.
The Bangkok of the People.
Let's start our journey of good in Thailand.
I came across this story in the TVO series The Life-Sized City, a series that highlights "pockets of life-sized goodness in cities all around the world." In this series Urban design expert Mikael Colville-Andersen takes us through 6 cities showing us the kind of projects and people that are changing the urban landscape and they way people live. It was this video on Bangkok that inspired me to look for the good in the world and to start collecting these stories.
A Congestion of Progress and Traffic.
Just to give you a picture, Bangkok is a city of 10 million people in a country that is run by a military dictatorship. This city has some of the worst traffic in the world and the challenge Bangkok faces is that the military controls the municipal administration making if very difficult for progress and changes to occur. That is not stopping its active and concerned citizens.
Creativity and Ingenuity in Place of Violence.
To better their city the people are fighting back not, as Mikael says, with violence, but with their creativity and ingenuity. They are reducing traffic in the streets by relying on the rivers that run through the city. Architects and designers are coming together to preserve historic sites and revitalizing old buildings that the city would have torn down for new development.
One Man's Trash is a Community's Livelihood.
This is one of my favourite parts of this story. In one community just outside of Bangkok you will find the Zero Baht Shop. It's a convenience store where families buy food for trash. When Peerathorn Seniwong was homeless he saw that trash was everywhere and he came up with an idea. He created a co-op where families in the community collected recyclable trash, which he then sold to factories. The money would pay for food and supplies in the store. Currently, 120 families are a part of the program. Amazing!
The Power is in the People.
These examples show how an idea can have the power to change a community. By taking an idea and turning into action despite the obstacles or the powers that be changes that otherwise would not happen are taking place. It's a great reminder that the power really is in the people.
The Transformation of Medellin.
Speaking of cities, the last few years saw some major changes happen in one of the most violent places. In the 80s and 90s Medellin was the drug cartel of Pablo Escobar and had the highest murder rate in the world.
Today, it's a city that has transformed itself. It is now a thriving city that is the envy of city planners across the world, who come to Medellin to learn what this city is doing right.
Cable Cars Brought this City to Life.
The one thing that transformed city and transported it out of its past was the creation of cable car system that connects the downtown area to the slums located on the mountain top of Medellin. It changed the way people commuted and brought the city together by connecting people from different social and economic backgrounds.
The Silicon Valley of South America. 
I met someone recently from Colombia who told me that Medellin is a beautiful place to live and that it is now considered the Silicon Valley of South America. I was blown away by the transformation. This is what citizens, city developers, and politicians can do when they put their time, energy, and money in the right place.
#PaintballsUpGunsDown
There are streets in Detroit that are known for their gun violence. Young men in gangs shoot each other just to survive. But, in some streets things are changing. In the past year gang members have started to put their guns down and picked up paint guns instead, shooting each other with paint balls instead of bullets. It's bringing rival gang members together and creating a better community in a way that I don't think anyone could have predicted.
Fun, Laughter, and Paint.
Now there is fun and laughter, and yes a lot of paint, on the streets where once there was only violence, tragedy, and blood. Gang members in this story shared how this paint ball war is giving them a chance to put their guns down, to have fun, and to connect and learn more about one another in ways they hadn't before.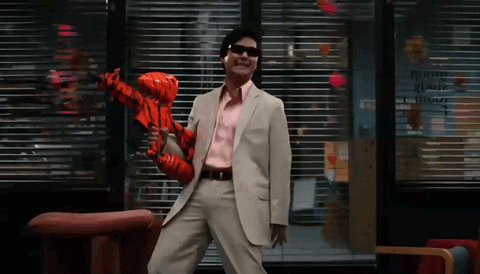 Paintballs Transform Hate into Love. 
It was inspiring for me to learn about this story and to know how something as simple as a paint ball can help bring a community together under such circumstances, transforming hate into love.
Seeing the Humanity in Gang Members. 
I'm really glad I came across this story (and the one of Homeboy Industries), because it showed me another side to gang members that I was not acknowledging, and it brought me closer to their humanity. I learned that people join gangs, not because it's cool or because they want to kill, but because they are running away from violent and abusive homes, in search of a new family.
Other Stories of Good and Honourable Mentions. 
There are many stories I found online that could add to this list, including how people are changing the way we recycle plastics, use energy, and clean our oceans. Including them here would make this post much longer, so I'd recommend you check these out. These stories are equally inspiring.
Lessons I've Learned on This Journey for Good.
This journey I took in search of the good in humanity helped me realize the power of the internet and how, like Wayne Dyer said, changing the way I look at things changes the way I see the world.
The Information Age is Not So Bad After All.
As I mentioned in a previous post living in the Information Age can be like living in a land of confusion with all that is going on, but I've come to realize that the internet can also offer us a lot of hope and connects us to our stories, the kind of stories that change how we see each other. It's changing the way I see life and the people around me.
The Good in People is Not Too Far Away.
Of course, I know that I don't have to search the web to find the good in humanity. It is closer to home. Coming from a good home and having been involved in a number of community programs I can vouch for all the good that people are up to. The kind of things that doesn't make it to air waves or the internet.
The People We Don't Know Are Good People.
There are many many hard-working, dedicated, caring people all around us. People who put their heart and souls in non-profit organizations, communities, businesses, in raising families, helping themselves and each other through some difficult life experiences. These are the people we'll never meet and their stories we'll never know. But, like the air we breathe, just because we don't know them doesn't mean they don't exist.
Let the Search Continue.
Writing this post has inspired me to continue to be on the lookout for the good in humanity. I know I appreciated hearing these stories compared with the other news that comes to my feed. It would be cool if somehow this post inspires you to look for the good in humanity too. You can share your findings in the comments below.
Thank you for reading this post.