Robin Lehner has often been a polarizing figure in the goal crease. While goaltenders are more often quiet, quirky, and introverted type of characters, Lehner is known for his wild temperament and being easily rattled by the opponent. It's not uncommon for him to break his stick over his net, or be seen yelling at opposing players when things are not going his way. Recently, perhaps his behaviour is more easily explained as he came out and detailed some of his mental health struggles, which manifested themselves in a panic attack this past March against the Detroit Red Wings. Lehner credits this incident as a blessing for sobriety.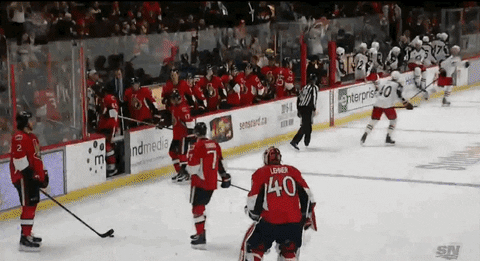 "When zero finally hit (at the end of the second period), I walked back and sat in the trainer's room," Lehner said.
"I could barely get my gear off. I broke down. I was having a major, full-blown panic attack. I thought I was suffering a heart attack. I had no idea what was happening. I could not go back on the ice."
Lehner says that after the intermission he was sent home. On his way back, Lehner took a detour to buy himself some beer, and after a night of drinking mentioned to his wife, "I have go away."
Lehner never played another game for the Buffalo Sabres. Instead, he went to rehab, where he says he was treated for addictions to drugs and alcohol and diagnosed as "bipolar and ADHD with PTSD and trauma" as well as having manic phases.
Lehner says that when at the treatment facility, it took him three weeks to fully detox. After, he came to grips with a personal battle that was "now complicated by my own childhood experiences of abuse, addiction and mental illness."
Through treatment, Lehner realized that his mental health issues were affecting him off the ice as well as his play on the ice.
"With those manic swings, I could see the pattern." Lehner said. "When I was hypomanic and in a good mood, I was a solid goalie. The depressive state, not so much."
While he was released by the Sabres in June, Lehner maintains a good relationship with the "incredibly supportive" Buffalo GM, Jason Botterill.  Lehner says Botterill reached out a number of times during the summer to check up on him.
Lehner was not without a team for long, as he signed as an unrestricted free agent with the Islanders in July to kick off the free agency season. Always a player with tantalizing potential, Lehner, 27, enters his ninth NHL season ready to "battle what's in front of me" and is looking forward to playing a sober season of hockey. That, says Lehner, will have been the first time he's done that in his NHL career.